Bring me your burning desire to succeed and I'll do the rest.
— David Greenwalt CSCS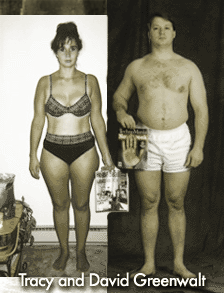 Dear Friend,
Hi, My name is David Greenwalt. I'm a lifestyle and fitness coach and author of the most authoritative book and program on body transformation ever–The Leanness Lifestyle.
The photos you see on this first blog are of my wonderful wife Tracy and me. Tracy is a lifelong weight fighter who weighs less today than she did in eighth grade. As for me? I was always active but had simply let myself get too fat. My wife Tracy and I have conquered what you're trying to conquer. We know what it's like to be too fat. Just look at our pictures here and tell us it's not true. We also know what it feels like to get lean and live lean–and at 40 plus years old too!
Today I'm proud to say that I empower people to change their lives for a living. And I do it with cutting-edge knowledge, teaching and online technology that only insiders are aware of let alone properly know how to use.
I've seen it all and read it all. Wouldn't it be nice, once and for all, to go to one, expert source for your questions instead of relying on the latest infomercial, newspaper blurb, water-cooler expert, or magazine "trick" of the month?
Wouldn't it be nice to have every fitness, nutrition, exercise and lifestyle question answered quickly and privately based on over 23 years of real-world experience and from a trusted friend who has your best interests at heart?
Wouldn't it be nice if you could be personally taught how to eat and train no matter what your budget is or what equipment you have access to?
Since August 1999 when I first started Club Lifestyle I've been working personally with thousands of men and women—people just like you who want to lose body fat while tightening and toning their muscles. Some just want to drop a few pounds and be healthier. Others want to compete in bodybuilding or fitness competitions. Still others want and need to lose a hundred pounds or more. I've worked with every person with every goal. And when I say personally I mean personally.
My intention is for this blog to become your trusted source for fitness- and body-transformation tips, ideas, motivation and news. The official website for this particular company I run is www.leannesslifestyle.com
Sincerely yours in health,
David Greenwalt CSCS