Rick Tuley was the male Grand Champion of Boot Camp 14. Not only did he lower his body fat to 6% he also won $10,000.00! In this interview I did with Rick you'll hear how this Harvard MBA transformed his body and in doing so his mind to help get through some very trying business times while also mourning the death of his Father.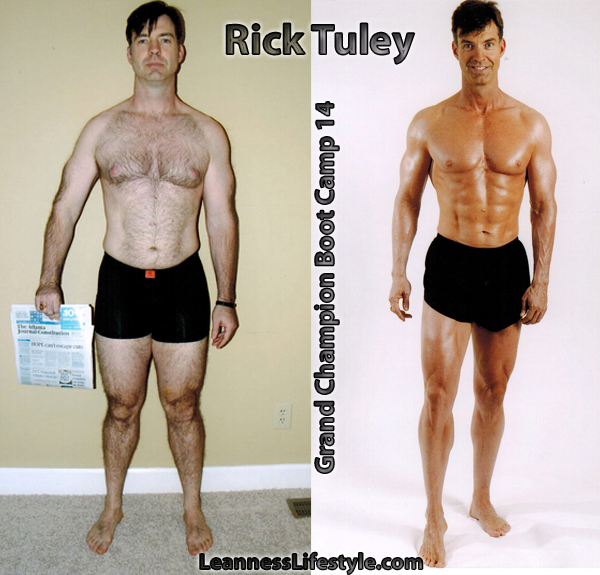 Be there no mistake. I've said this for years now. I don't care who you pass on the street, don't care what clothes they're wearing, don't care what they're driving, don't care how many jewels they adorn their body with – don't care. EVERYONE is struggling with something.
Rick put his pride on the line and signed up for Boot Camp 14 which ran from Feb through June 2011 (20 weeks) and in doing so he took his body from a place he had been before after losing weight many times in the past to a place he never imagined he'd every truly be. He knew that although SO much of his life wasn't totally within his control his body was within his control – so he decided to step up and do what he could with what he had. And because he gave it his all – as is always the case for any of my Boot Camps – giving it your all will always be enough. It was for Rick – give his 30-minute interview a listen. I bet you get a lot out of it.
Mouse over this and RIGHT CLICK and then SAVE TARGET AS
http://www.leannesslifestyle.com/podcast/success_story_rick_tuley.mp3
Make sure you are on the Boot Camp 15 early-bird email notification list if you are not. Just look for the GET IN THE BEST SHAPE OF YOUR LIFE area to the right and put your email in where it says to get on the list. And MAKE SURE you then validate your email by checking it right away otherwise you won't really be on the list.


Podcast: Play in new window | Download