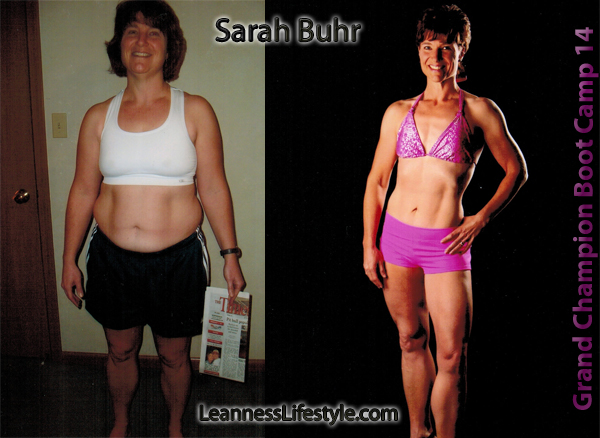 The mid-40s 20-year wife and Mother of three Sarah Buhr recalls at an early age being criticized for her weight. But in 2011 during a 20-week online Leanness Lifestyle Boot Camp 14 challenge Sarah lost all the weight she wanted, gained confidence she never had and also won $10,000!
Having a larger, somewhat athletic build as a young girl Sarah found that sports were where she could make friends and relieve the stress of everyday life.
In 2010, in her mid 40s, Sarah was at an all-time high weight, feeling very low and somewhat of a fraud due to the fact she is a personal trainer. Through a "chance" meeting in 2010 at a training seminar Sarah met long-time Leanness Lifestyle member and Coach Tom Roehl. Tom shared a Leanness Lifestyle book with Sarah and over the course of the next several months Sarah gained enough trust to take a chance on the 20-week Leanness Lifestyle Boot Camp 14 challenge.
Now only did Sarah transform her body she gained a new confidence in herself that had long been missing. She also won $10,0000 and was awarded the status of Grand Champion female winner of Boot Camp 14.
Her story is best told in her own words and you can download her MP3 audio interview by mousing over the link below, right clicking and saving the target as a file on your own computer.
Is it your turn to lose the weight you've been wanting, gain the confidence you deserve and even win your share of over $10,000 in cash and prizes? Boot Camp 15 begins February 8, 2012. I look forward to being a part of your journey if you'll allow me. I look forward to helping you as I helped Sarah and thousands before her over the past 29 years of fitness coaching.
Be sure and put your email in the box at the above right area of this page  for early-bird notification. This way you can be sure you are first to be notified when the doors open for registration. All early-birds will get a 24-hour head start to reserve one of the 100 limited spots in the Boot Camp 15 body-transformation challenge. And remember, no travel is necessary.

In health,
David Greenwalt – Founder
Certified Wellness Coach (ACSM)
Podcast: Play in new window | Download