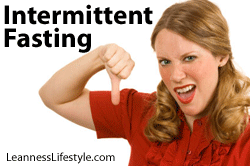 You may have never heard of "intermittent fasting" (IF) but it's not new. It's been getting a lot of traction recently on various boards and blogs and in this article I'm going to review a new book on the subject by John Berardi called "Experiments With Intermittent Fasting."
I need to say right up front that ordinarily I respect much of what John Berardi has to say. You may not know who he is. He's mostly "one of us." He's a sharp guy from Canada, has a Ph.D. and everything. He also runs a body-transformation company, does a good job overall, has done a nice job building his email list and company up etc.. But, as usual, I don't agree with everything he says and I don't buy everything he says or sells. And, in the end, in my very biased yet honest opinion, I don't believe his program, as a whole, is as complete as Leanness Lifestyle.
While I don't agree with everything he says one thing John isn't is a quack. So when he put out a free online book about Intermittent Fasting (IF) I thought I'd give it a look. When people who have massive followings and influence say something kinda "out there" I believe it's important to explore their thinking. They may be saying something genius or they may be starting a trend that ought not to be started. Such is the case with IF – it's a trend that ought not to be started.
John conducted a six-month IF experiment on himself. As a fellow guinea pig of sorts I get it. I've got no problem with him trying out IF to see what would happen. It appears John gave IF a shot himself because he says he "had become very interested in the work of strong IF proponents like Ori Hefenkler, Brad Pilon, and Martin Berkhan. Reading the anecdotes from their website followers, I became intrigued with the idea that you could skip meals – and sometimes entire days of eating – without suffering lethargy, brain fog, and muscle loss."
Wow, okay, I actually was REALLY expecting a laundry list of research articles John had found. That's normally how he operates but that's not what I found. I will say I did NOT read all of John's new "book" so I may have missed the research references – no joke. I did find one reference John provides that does provide lit resources. Feel free to check it out yourself if you have the time. http://www.alanaragon.com/an-objective-look-at-intermittent-fasting.html  Doesn't change my opinion of this but anyhoo…
Anecdotes. Alright, continuing on …
The reasons are many why I don't like IF after reading what I wanted out of John's book.
1. In the end it's no better than properly-spaced meals 4-6 times per day. It's just different. Don't take my word for it. John essentially says the same thing.
2. The TRIAL FAST is going without food for 24 hours. John says it's good to help a person get better used to "being hungry." I say it sets the compulsive overeater or addict up for a binge pre- and post-fast. It's very reminiscent of the old Body-For-Life "Eat anything you want for one FULL day a week" nonsense. At some level it's common for compulsive overeaters and food addicts to have experienced some form of serious deprivation in their life. A fear often manifests out of that deprivation – a fear of being "without." Some make up for this feeling mistakenly and maladaptively with food, however, IF is not going to fix the underlying issue. It may make it worse in my opinion.
3. John wants you to have a tablespoon of almond butter and celery as your first meal back after your IF. He also wants you to make sure you have healthy food in the house post-IF too so you don't binge. I say, for the average significantly overweight or obese client "Get real." Sure, SOME will be able to do this – the non-addicts, the non-compulsives, the non-weight fighters. And I believe, if I'm not mistaken, that leaves about 5% to 10% of overweight people remaining. So an IF is likely BEST for people who don't have underlying issues that manifest into disordered, compulsive and addictive eating. That REALLY eliminates an enormously high percentage of clients I work with since far more than most are addicts, eating-disordered or compulsive-overeaters and most definitely long-standing weight fighters.
4. John got a bit greedy during his six-month trial of a variety of IF approaches and decided if one day of fasting is good, two days a week might be better. So he tried fasting TWO days a week with, as he says, "disastrous results." This isn't surprising. He writes …"Another major problem: I was becoming obsessively preoccupied by high fat, high sugar food. In fact, food was all I could think about. On my 'eat what I want days' I went crazy and no longer ate what I wanted. Instead, I binged, made myself sick, and generally felt terrible.' I agree with John—that's pretty disastrous. And something to consider is John is someone who has been weight stable for 10 friggin years! He's NOT his typical weight-fighter client! John is not compulsive, disordered or addicted to food! And HE obsessed and binged by fasting two days a week. Wow, what would a weight fighter do? I know what they'd do – worse.
5. Another type of fast is the PERIODIC FAST. You fast – well, periodically. Maybe once a week or once a month or once a quarter or maybe only when traveling. I disagree with this for the same reasons as I've stated thus far.
6. THE DAILY FAST is where you eat for 8 hours and fast for 16. Think about that. That's the opposite of what we normally do. Normally we eat during our 16 waking hours and during our 8 hours of sleep we don't eat. John's not saying you do anything different with your sleep. I'm just stating what we normally do so you can see the difference.
7. In his own words about the DAILY FAST "Who It's NOT For: Pregnant women, people who have or have had eating disorders, and people simply looking to be healthy and fit with no particular desire to be extremely lean. The Daily Fast will typically be much harder to adhere to for men over 15% body fat and women over 22% body fat. Furthermore, there are far easier ways to make rapid and lasting change for people in those categories."
8. This brings me to another thought about any of these fasts. Ladies, are you pregnant when you see your belly protruding? Or are you pregnant when the egg is fertilized, becomes attached the uterus and cells begin to divide? I'll go ahead and answer – WHEN CELLS BEGIN TO DIVIDE. Why the HELL would we want to do something inherently dangerous or not good for us if pregnant when it's COMMON for women not to KNOW they're pregnant for days, weeks, and less commonly even MONTHS? I don't get it.
9. Next, The DAILY FAST is mostly for those already relatively lean he says. That knocks out 90% of those I work with – and I suspect him too but perhaps he's trying to address this "other" market and that's fine. But this works NO BETTER than the 4-6 meal a day plan.
10. Next, The DAILY FAST is not for "…people who have or have had eating disorders…" Holy crap! Be there no mistake eating disorders are on the rise. Here's just one of MANY references. Feel free to do your own lit searches. http://www.nytimes.com/2007/02/06/health/06iht-sneating.4491388.html
Do keep in mind that most discussion of eating disorders only includes anorexia, bulimia and binge-eating disorder. Discussions don't even REMOTELY take into consideration compulsive over-eating and food addiction – not even CLOSE!
Another fact about eating disorders? MOST go undiagnosed and under-treated. People are embarrassed to talk about an eating disorder. There are TENS of MILLIONS of eating-disordered weight fighters just in America alone. I'm not required to be stupid and ONLY include anorexics, bulimics and binge-eaters so I won't. So any research you see regarding numbers of eating-disordered people? They are only a FRACTION of the real numbers of eating-disordered sufferers for reasons already given.
As I've said hundreds of times before I'll modify it slightly to reflect my latest education and beliefs. Here goes… NOT EVERYONE OBESE IS A COMPULSIVE OVEREATER OR A FOOD ADDICT — ONLY 90%.
And one of the versions of the IF technique John talks about is NOT GOOD for people with eating disorders.
11. Wow, just found another reason I hate IF. I have to think about WHEN I'll train next. After all, why train when you're depleted? Why push the envelope when you haven't had ANY FUEL for 24 hours? Now I have to think about when I'm going to train based on my IF plan? No, screw that!
And while I'm at it. Yes, I DID make somewhat of a big todo in my book about the importance of the post-workout meal. And yes, there is plenty of research to support that getting fast-absorbing protein with carbs RIGHT AT THE END OF A HARD WORKOUT is better for muscle-glycogen replenishment and protein synthesis and muscle-tissue remodeling than NOT getting in a protein-carb blend right after a workout. But here's a real-world strategy I've mostly used for 29 years barring a few spurts here and there when I wanted to get anal about things – MY POST-WORKOUT MEAL IS WHATEVER MY NEXT MEAL IS! I EAT SIX DAMN TIMES A DAY! IT WONT' BE LONG AND I'LL BE EATING AGAIN. I'LL BE FINE! And so will you. Your post-workout meal is the next planned meal of your day after you workout. Now THAT works for not the 5-10% but for the 90-95%!
12. I almost forgot but something's been bothering me since John shared his numbers. And let me say this first. John was in shape BEFORE he started his six-month IF testing and he was in super ripped shape when he finished! No doubt. Nice job on getting shredded John!
BUT
He says he was 190 and 10% body fat when he started. To be honest I'd agree based on the pics he shared. Makes sense. But what doesn't make sense are the numbers. 190 and 10% body fat is 171 pounds of lean body mass (LBM). John says he finished at 170 pounds and 4% body fat. I can't tell for sure about the weight but it'd be easy to believe John got to somewhere between 4-6% body fat – VERY easy to believe. He was RIPPED.
BUT
If he did get to 170 and 4% body fat then IF really really REALLY sucks for keeping lean body mass. Here's why.
190 and 10% = 171 LBM
170 and 4% = 163.2 LBM
So he lost 7.8 pounds of LBM. So instead of losing a really high percentage of his 20 pounds as fat he really lost 12.2 pounds of fat and 7.8 pounds of LBM. 12.2 + 7.8 = 20 pounds. So 39% of his 20 pounds lost was LBM (think muscle)? No thank you! To be honest? It makes sense. Fasting MIGHT eventually show some research-based positives we would want to trade for the negatives.
BUT
One of the FIRST energy resources used in early-fasting are amino acids (think protein, think muscle). It's called gluconeogenesis. The brain doesn't do well without carbohydrate (think glucose) for energy. In fact it relies on glucose nearly exclusively, with rare exception, as its sole energy source. So the body is GOING to make damn sure the brain has glucose to function. What does it use when there's no food to make glucose? You guessed it – amino acids (think protein, think muscle). It BREAKS DOWN MUSCLE TISSUE TO GET THE AMINO ACIDS IT NEEDS TO MAKE CARBS FOR THE BRAIN AND OTHER VITAL ORGANS!
This is one of the reasons that ultra-low-carb diets SUCK in the short term but can be okay for some in the long term. In the short term muscle gets used to create glucose for energy but over a period of a couple weeks of continued low-carb dieting the body gets more efficient at relying on ketones for fuel instead of muscle tissue. That is beyond the scope of this article but know that it's well known that low-carb diets SUCK for keeping muscle in the first few days for these reasons. Plus it's well known that the first day, two or five of a low-carb diet is/are the WORST for mental clarity, mood and overall energy. No thank you.
In the end? These are the quoted takeaways John says are most important:
1. Trial fasting is a great way to practice managing hunger. This is an essential skill for anyone who wants to get in shape and stay healthy and fit.
2. More regular fasting isn't objectively better for losing body fat. While my IF experiments worked quite well, the intermittent fasting approach (bigger meals, less frequently) didn't produce better fat loss than a more conventional diet approach (smaller meals, more frequently) might have.
3. More regular fasting did make it easier to maintain a lower body fat percentage. Intermittent fasting isn't easy. However, I did find that using this approach made it easier for me to maintain a low body weight and a very low body fat percentage vs. more conventional diets.
4. Intermittent fasting can work but it's not for everyone, nor does it need to be. In the end, IF is just one approach, among many effective ones, for improving health, performance, and body composition.
So I'll summarize the summary if you will indulge me.
1. To manage weight you're going to have to deal better with hunger. Hunger is a natural physiological response and people who want to lose weight will need to understand and manage physiological versus phantom hungers.
BUT
2. IF is not better than other methods for fat loss or teaching the management of hunger. It's not easy (Another way to say this? It's hard.)
3. IF can possibly help you hold an ultra-low body fat as long as you are willing to sacrifice muscle every time you use it and you are willing to sacrifice 39% of the weight you lose as muscle to get there.
4. The research is scant at best indicating that IF will improve health, performance and body composition so I disagree that it should be touted as one of the many "effective" ones.
Here is the article/book John wrote regarding this subject.
http://www.precisionnutrition.com/intermittent-fasting