if it works it works mostly because any 500-calorie per day diet works in the short run. That's essentially what the HCG diet is. It's a 500-calorie per day diet that gives the illusion of being medical because of the administration of either shots or sublinqual tabs of human chorionic gonadotropin (HCG).
According to Diet Scam Watch "Human chorionic gonadotrophin (HCG) is a hormone found in the urine of pregnant women. More than 50 years ago, Dr. Albert T. Simeons, a British-born physician, contended that HCG injections would enable dieters to subsist comfortably on a 500-calorie-a-day diet. He claimed that HCG would mobilize stored fat; suppress appetite; and redistribute fat from the waist, hips, and thighs [1]. There is no scientific evidence to support these claims [2-13]. Moreover, a 500-calorie (semi-starvation) diet is likely to result in loss of protein from vital organs, and HCG can cause other adverse effects."
http://www.dietscam.org/reports/hcg.shtml
Harvard Womens' Health Watch Editor Celeste Robb-Nicholson M.D. agrees.
Click the image below to see an image of the complete article as published in the May 2010 edition of Harvard Womens' Health Watch.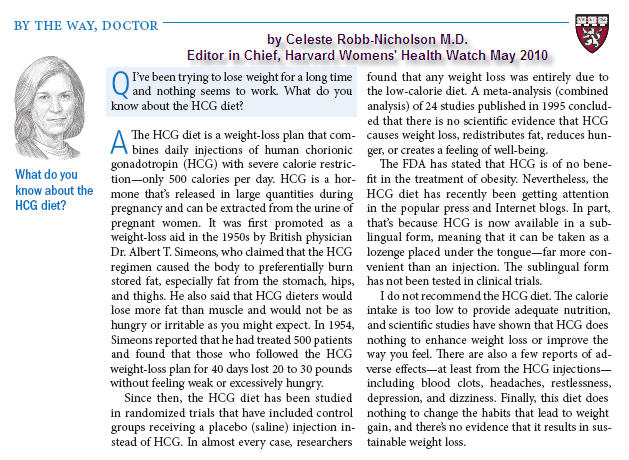 Here's a direct link to what Wikipedia has to say about it – also not positive in relation to HCG being worthwhile for weight loss.
CLICK FOR LINK TO WIKIPEDIA
Here's a decent article from U.S. News about it.
http://tinyurl.com/6cpwkwt
David Says: The HCG diet is yet another sham that can create big, short-term water, fat and muscle loss resulting in a large number drop on the scale – for a little while. It's not something people will be able to do forever nor are they likely to stick with it.
Stick with a lifestyle-based program that allows you plenty of food variety, calories north of 1000 per day even during weight loss, that focuses on nutrient density and that helps you work in adequate exercise to accomplish your goals while living life. In addition a focus on emotional elements beyond purely rational mathematical formulas is suggested since no one eats purely based on physiological hunger all the time.
In health,
David Greenwalt – Founder
Leanness Lifestyle University
Certified Wellness Coach – ACSM
Professional Member (NSCA, CSCS IN 2000)